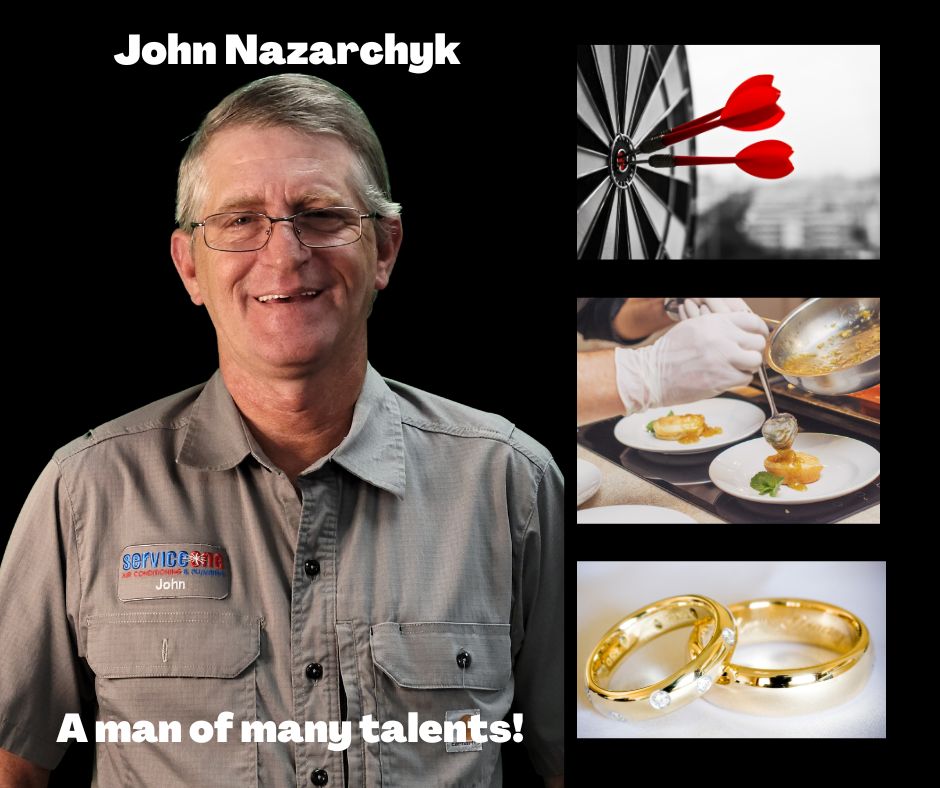 As the owner of ServiceOne, I can tell you how very blessed I am to work with such a talented, dedicated, multi-faceted team. We have a staff that most HVAC companies only dream of, and I want you to know some of them.
Meet John Nazarchyk, just one of the amazing team members here at ServiceOne!
John carries on a family tradition
When it comes to managing HVAC systems, ServiceOne's HVAC manager, John Nazarchyk, is a true professional. With a family legacy in the HVAC industry and a passion for excellence, John brings a unique blend of expertise and personal interests to his job at ServiceOne.
John Nazarchyk comes from a long line of HVAC technicians, making him a third-generation expert in the field. Both his father and grandfather owned HVAC and appliance companies. His grandfather worked in Montgomery, Alabama. His dad moved to Florida in 1979, bringing his expertise with him and working in the industry for years.
As a young man, John was a "gopher" for his dad and was "ridden harder" than any other employee because his dad wanted him to perform to higher standards. The previous generations of the Nazarchyk family passed down their knowledge and instilled a commitment to quality service in John. Today, John's deep-rooted connection to the HVAC industry is a testament to his dedication and understanding of the business.
John had various experiences in the industry, first with his dad, and then with companies he worked for, including a refrigeration company that was in charge of maintaining the precise temperature needed for specialized climate-controlled rooms. One of his most memorable experiences was working alongside the Space Shuttle at NASA and being awed by the history and technology involved!
John's role at ServiceOne
As HVAC manager, John wears a lot of different hats. He orders equipment for installations. He develops and conducts in-house training for techs. He does estimates for commercial jobs, checking the specs and ensuring everything is accurate.
He's not always behind a desk, either! John is an official Rigger Signal Operator, certified to operate cranes and lifts so the massive HVAC units can be placed on top of buildings.
Since John is focused on customer service, the most stressful part of the job is when he can't get enough done in the limited hours of a single day. He also struggles when he can't resolve a customer's problem due to circumstances beyond his control, like a shortage of parts.
In addition to being a fantastic team member…
The team here at ServiceOne are fascinating people with diverse interests and skills.
John's talents go far beyond his knowledge of HVAC.
A Culinary Maestro
Beyond his "day job," John is a culinary enthusiast who enjoys experimenting in the kitchen. Some of his favorite recipes include lemon-garlic salted asparagus, pork loin medallions pan-seared in apple juice, and spinach-goat cheese chicken breasts. Every year, guests at the annual ServiceOne Christmas party request his deviled eggs, and he complies by making FIVE DOZEN of them! His ability to create delicious dishes showcases his creativity and attention to detail, qualities that undoubtedly contribute to his success in HVAC management.
A Master Craftsman
In a truly remarkable twist, John's talents extend even further. He panned for the gold he recently used to craft the wedding bands for himself and his fiancée, set to be used in their upcoming marriage in 2024. This unique and sentimental gesture highlights John's passion for crafting and his commitment to personalizing every aspect of his life.
A Competitive Spirit
Outside of work, the kitchen, and his shop, John Nazarchyk also has a competitive side. He actively participates in competition dart throwing! He definitely "makes a point" of enjoying life to its fullest!
An Integral Part of an Amazing Team
John professes his admiration for the atmosphere at ServiceOne. He appreciates that there is never an us-against-them mentality.
"In some companies, there's tension between the techs and the office, or the techs and the plumbers. At ServiceOne, there's a true feeling of family, a tight-knit group where everyone looks out for each other."
ServiceOne is proud to say that in March of 2024, John Nazarchyk will celebrate his tenth anniversary with us!
John Nazarchyk's diverse set of skills and interests makes him a Renaissance man in every sense of the word. His family's HVAC legacy, culinary talents, craftsmanship, and competitive spirit all contribute to his well-rounded personality. As the HVAC manager at ServiceOne, John undoubtedly brings a wealth of experience, a commitment to excellence, and a touch of creativity to his role.
He's an amazing guy, indeed, and we are happy that he is here with us to serve you.
But the best thing of all is that he is just ONE of an amazing group of people at ServiceOne ready to serve you and keep you comfortable every day of the year.